Welcome to Adirondack Benches .com showcasing a unique collection of rustic twig furniture and North Country crafts inspired by the Great Camps of the Adirondacks. We invite you to preview our one-of-a-kind Adirondack chairs, benches, tables, birch bark mirrors & frames, handcrafted ash baskets, antler chandeliers handwoven rugs and hand made Adirondack Guide Boats.

The Adirondack style has become the mainstay of garden furniture. Garden benches and tandom chairs grace the lawns of some of the finest estates around the world.


The Adirondack Mountain Region is credited with giving birth to the rustic furniture tradition in 19th-century America. The Adirondack chair appears to be based on the Westport chair designed around 1900 by Thomas Lee, who had a summer cottage in Westport, New York, on Lake Champlain. One winter Lee lent his chair design to a hunting partner, Harry Bunnell who was an out of work carpenter. Bunnell began making what was then called 'Westport Chairs' with backs, seats, and armrests made of wide planks. He patented his version in 1905. This was the beginning of the sloped back - wide armrest Adirondack Chair.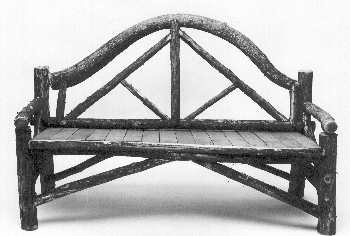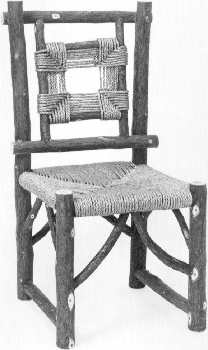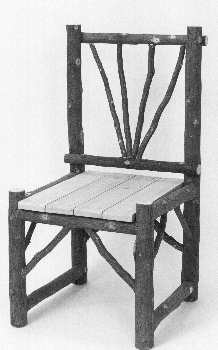 Click here to see more Adirondack Furniture!
Adirondack Great Camps

A brief history of the Adirondacks from the first sighting by a European in 1535,
through the eras of trapping, iron mining, and lumbering, to the development of railroad and steamboat lines that led to the influx of tourists and building of the "Great Camps".
The sixty years from 1870 to 1930 were the heyday of these camps, the "Guilded Age" of the Adirondacks. Kaiser gives a fascinating account both of the personalities who engineered and financed these fabulous structures and of the bulidings themselves.
Click here to visit our photo gallery of vintage Adirondack Great Camps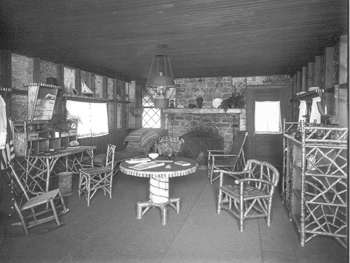 Adirondack Chair & Furniture Center


Gallery of Unique Adirondack Chairs
Adirondack Art Chairs - An Exhibition & Auction - Lake Placid Center For the Arts
Adirondack Art Chairs Lent the creativity of North Country Artists.
click on images for larger version
Click Here to visit a unique gallery of Adirondack Rustic Furnishings
Robert Stump Studios
Hand Painted Adirondack Gifts
Click Here
---
Camp "Cobblestone"
The Legendary Great Camp of the Adirondacks!
Sold June 2006
St Regis - Spitfire Lake
Camp Cobblestone represents one of the last remaining Great Camps in northern New York and was originally built by the father of Pennsylvania Governor George H. Earle Jr., between 1900 - 1915. The estate is comprised of over 20 acres and includes eleven separate buildings and 1500 feet of prime waterfront on Spitfire Lake in the St. Regis chain. Camp Cobblestone's remarkable architecture features a unique cobblestone boathouse, 2 story stone tower, a magnificent octagonal living room with diamond pane windows and numerous stone guest cottages and buildings.
Click here for more information
Click here to visit our photo gallery of vintage Adirondack Great Camps
Find bargains on Adirondack Benches & other outdoor furniture. Great selection of rustic adirondack benches available at low prices.
click here
Log Home Furniture
Discount prices on log cabin furniture including beds, dressers, tables, nightstands, armoires, bunk beds, rocking chairs, futons, sofas, swings and more.
Free shipping & easy ordering!
click here

click here to visit the Adirondack Store



Order your fresh Balsam Wreaths direct from the Adirondack Mountains!



click here to visit our Adirondack Book store
Adirondacks: Views of an American Wilderness
In 'Adirondacks', author and photographer, Carl Heilman II, has captured a real sense of the Adirondack region with his spectacular imagery,
and evocative narrative.
Click here to order



ONLINE VISITOR & RELOCATION GUIDE
Click here to get valuable resources and tools to help you relocate, buy a home, find a great loan & much more!


Adirondack Benches.com

Phone: 518-891-3745 Fax: 518-891-3768
E-Mail: RobGrant@northnet.org



Phone: 518-891-3745 Fax: 518-891-3768
E-Mail: RobGrant@northnet.org